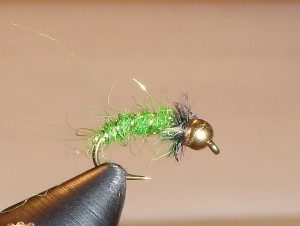 The boring, but effective caddis larva. This bright green pattern is very effective in the months of March-April.
The pattern is versatile and can be tied in many colors. An olive version catches fish all year long. Remember to size them based on the season. Size12-14 is great around May, size 18 in the summer fall and size 16-18 winter to early spring. An advantage of fishing a size 16-18 is that it makes an acceptable olive nymph.
Hook: TMC2487 sz14-16
Thread: Danville olive 6/0
Bead: Tungsten 2.4 mm gold (sz14); 2.0 mm (sz16) tungsten
Weight: a few turns of 0.01 lead, packed into the bead head (just enough to keep the bead from sliding forward)
Rib: gold ultra wire. BR (sz14); SM (sz16)
Dubbing: 85% Waspi Life Cycle Bright Green (#065) and 15% medium olive hardline dubbing (HD11)
Collar: Black ostrich tip (sz14) or two strands of twisted peacock (sz16)
Notes: You can use 100% Waspi dubbing rather than the mixture. I prefer to mix in a little drab olive rabbit dubbing to dull it a bit and improve applying the dubbing to the thread. I tend to tie my caddis larva with a thinner, uniform profile (compared to what you see in some commercial ties).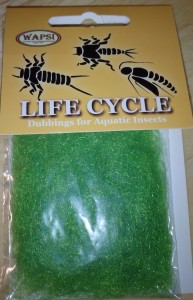 Dubbing Bright Green #065